Setting Up Clay
➊ Download the apps.
Clay has beautiful desktop and mobile clients for iOS, Mac, and Web. Start by downloading them here, and we'll help you get set up.
➋ Connect your accounts.

Our goal is to help you strengthen your personal and professional network, deepen your relationships, and cultivate social serendipity—without a bunch of manual data entry. That's why Clay combines data from your existing social platforms such as LinkedIn and Twitter with iMessage, iOS Contacts, calendar, and email to automatically create cards for your contacts and keep them up to date.
Most Clay members connect:
Personal email and calendar
Work email and calendar
Twitter
Linkedin
iMessage
If you have contacts in other formats—a spreadsheet, Notion, Airtable, email archives, etc.—we're happy to import them manually to your account. Please send us an email, and we'll get that sorted for you.
How to Connect Your Accounts
During onboarding, you connected a calendar, email, and/or Twitter account. All our other integrations are available through the Settings page on iOS, Mac, Windows, and Web, although some can currently only be connected on certain platforms for security reasons. For specific instructions for each integration, check out our guide.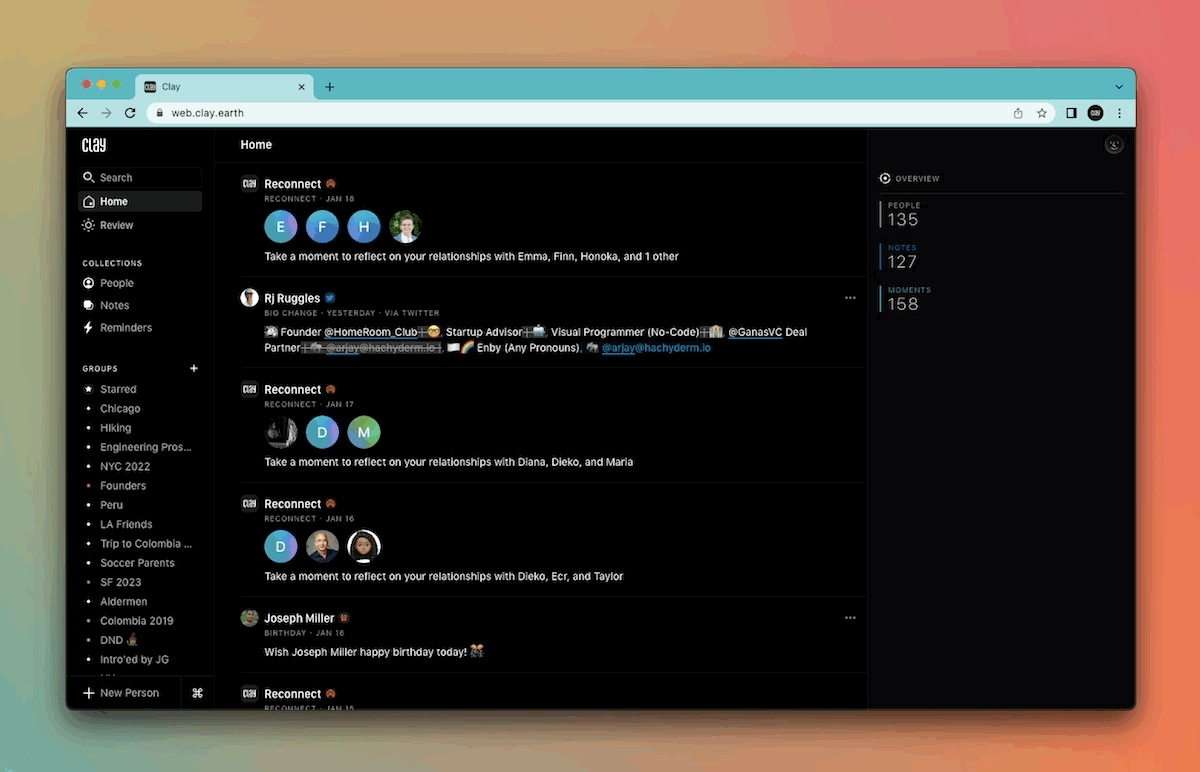 To connect your accounts, go to Profile Icon, then Settings. Click Integrations on the right-hand side of the pop-up, scroll down to Sign In Accounts and follow the connection flow for each account you'd like to add.
What Clay Does
Clay uses your integrations to populate cards with contact information, display how long you've known each other, what platforms you're connected on, and evaluate your relationship strength.
Clay's Home feed keeps you in the loop about what people are doing. Updates are posted when they're mentioned in publications or when they update their Twitter bio, website, or location data.
What Clay Doesn't Do
We respect your privacy. That's why Clay asks for the lowest level of permission necessary to only create contacts and analyze interaction frequency. See our Security and Privacy policy, written in plain English, for more details.
Clay does not own your data, nor do we sell it to others or use it for advertising.
Clay does not read or send emails, messages, or DMs or create or edit events.
Clay does not store your username or password for any integrations.
❸ Make yourself at home.
We want to make sure you get the most out of using Clay which is why we've added a number of customizations. Check out the Account & Settings section for all options, but themes and notifications are a good place to start.
Themes
We currently support dark mode, light mode, and automatic mode, which match your system settings. Create your ideal experience by going to the Profile Icon in the top right, then Settings and you should see Appearance on the right-hand side of the pop-up.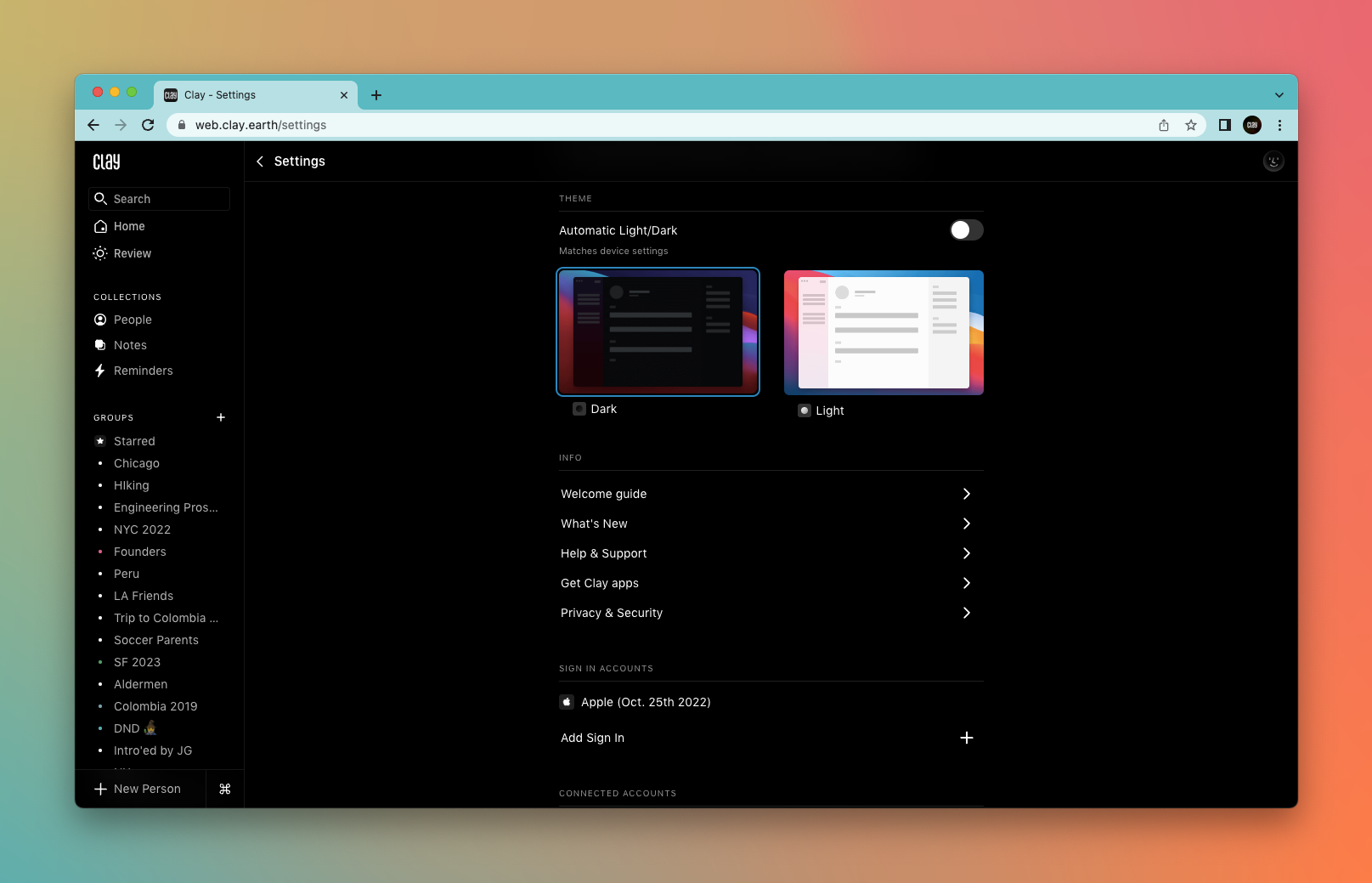 Notifications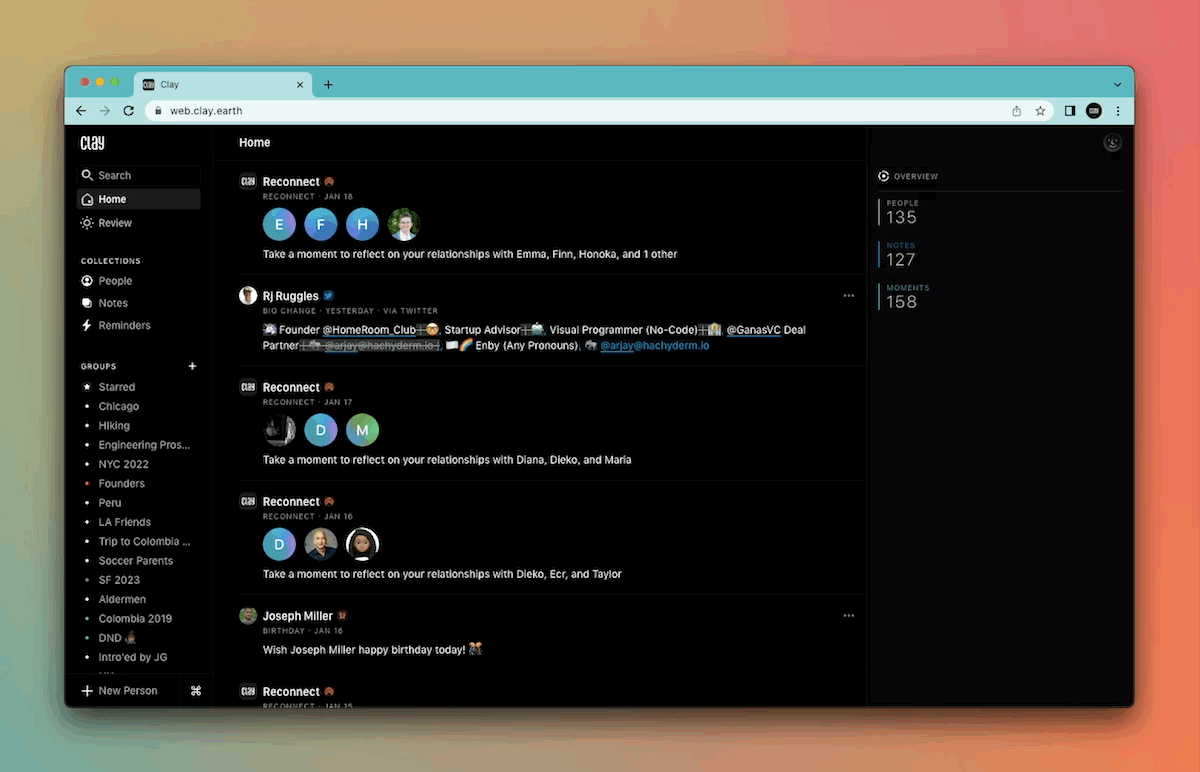 Customize your notification settings to optimize Clay for your goals.
Go to the Profile Icon in the top right, then Settings
On the right-hand side of the pop-up, go to Notifications
Notifications Options
Pre-meeting Briefs help you quickly get up to speed for your next meeting
🌟 Pro Tip: Tap and hold on the notification during or after a meeting to take notes.
Every Sunday, the Weekly Digest email prepares you for the week ahead with a summary of news and updates from your network and your upcoming meetings
You can also opt into the Daily Brief, which covers who you'll be meeting with and quickly contextualizes your relationship with them every morning
Daily Check-in: Home & Review
Think of Home and Review as a curated, live briefing of what you need to know about the people you care about.
➊ Home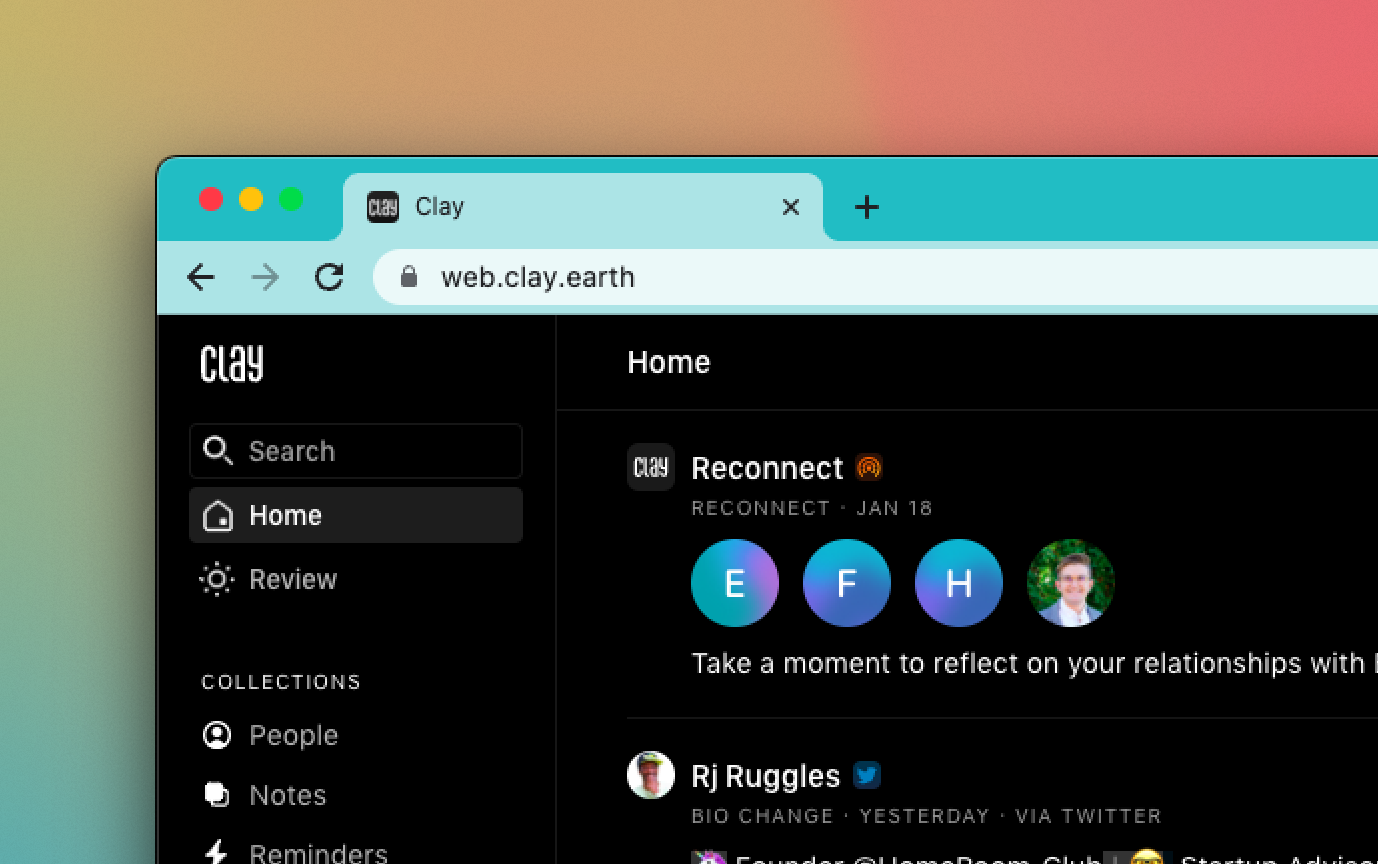 Home is a real-time, high-level view of what's happening in your network with an overview of the people, notes, and moments you've added. Use Home proactively to foster stronger personal and professional relationships by learning what your people are up to. It's composed of a few elements:
Any reminders that are due will appear in both Home and Review.
Home also displays reconnect prompts for people you haven't spoken to in a while.
Twitter Diffs: Home shows when people change their Twitter bio, location, or website.
News: Whenever one of your contacts is mentioned in a publication.
Weekly Highlight: Stats on how many people you've added, notes you've written, and events you've attended.
New Members: When someone you know joins Clay.
Access Home by clicking on the second view on the left sidebar on desktop or the second icon in the Tab bar on iOS.
➋ Review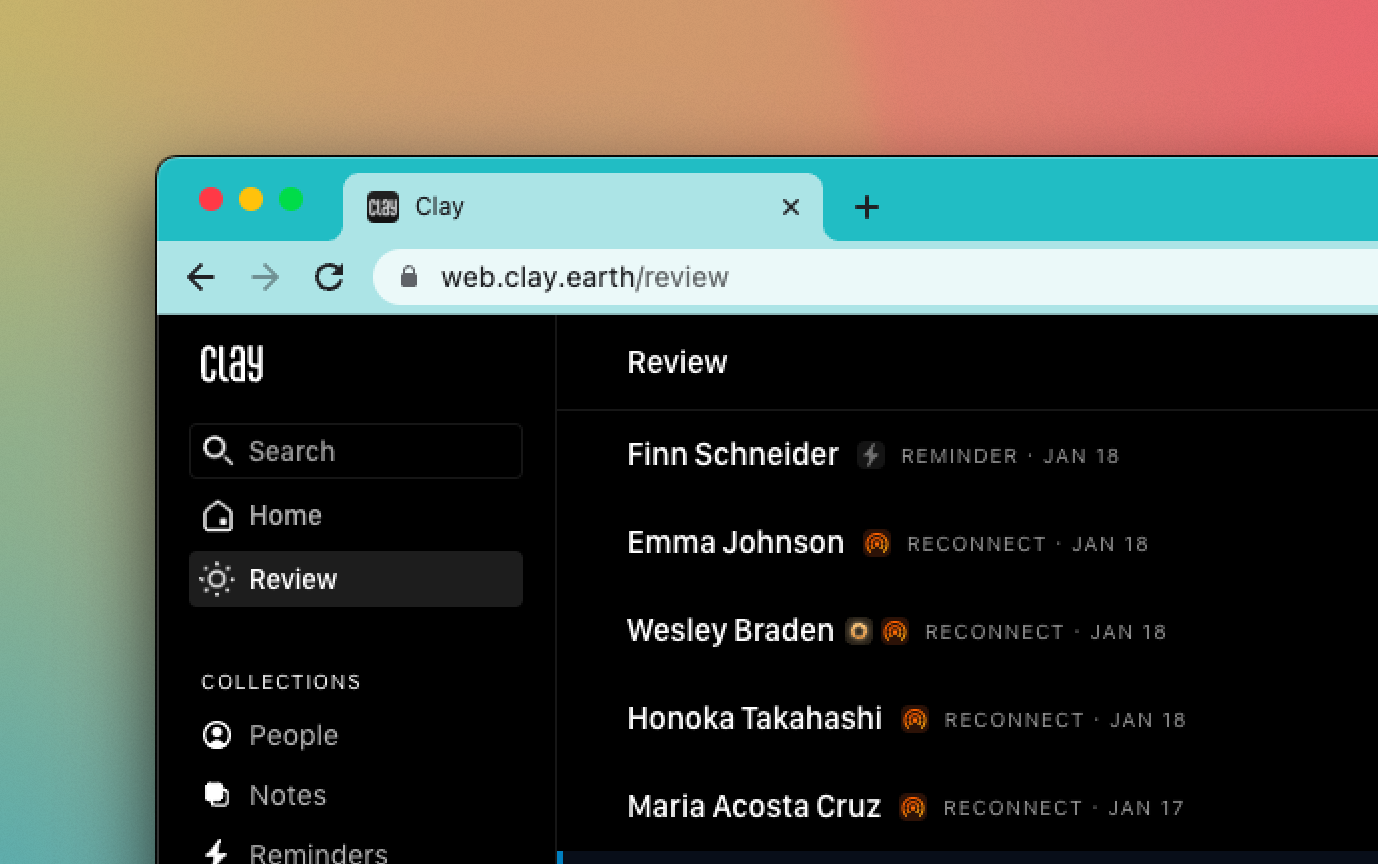 Our goal is to enable you to be more thoughtful with the people you interact each day. Here, Clay presents the day's events, any follow-ups that are due, and when you interact with someone for the first time, Clay creates a card and marks them as new. To make the most out of today, we encourage you to take notes, set reminders, and check in daily.
Access Review by clicking on the first view on the left sidebar on desktop or the first icon in the Tab bar on iOS.
Check Review every day, ideally in the morning and the evening. It doesn't need to be extensive, just a quick glance to remind yourself what you have going on, check in with what happened, and jot down anything that felt relevant.
The Basics: Cards, Notes, & Reminders
The building blocks of Clay are Cards, Notes, and Reminders, each enhancing your ability to be informed and thoughtful when you reach out.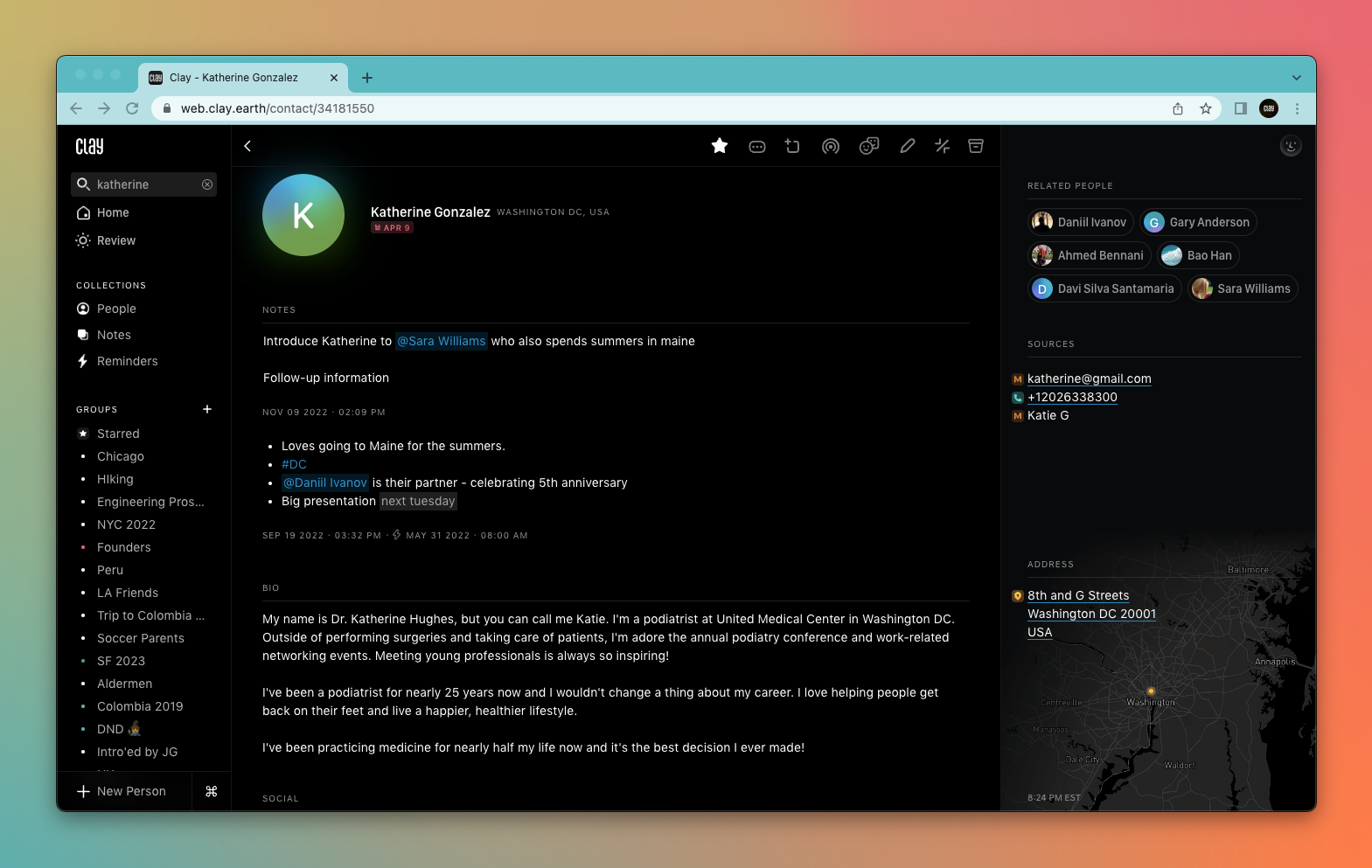 Cards are at the heart of Clay. They provide an overview of how you know someone, the last time you interacted, and what platforms you're connected on. Any notes you take are gathered in a person's card, and you'll be able to view related people. Cards also summarize how long you've known each other and how much you interact and present a timeline of your first, most recent, and upcoming interactions.
Since card information is populated based on others' public profiles on each integrated service, Clay updates when they do, ensuring you're always informed.
Adding and Removing People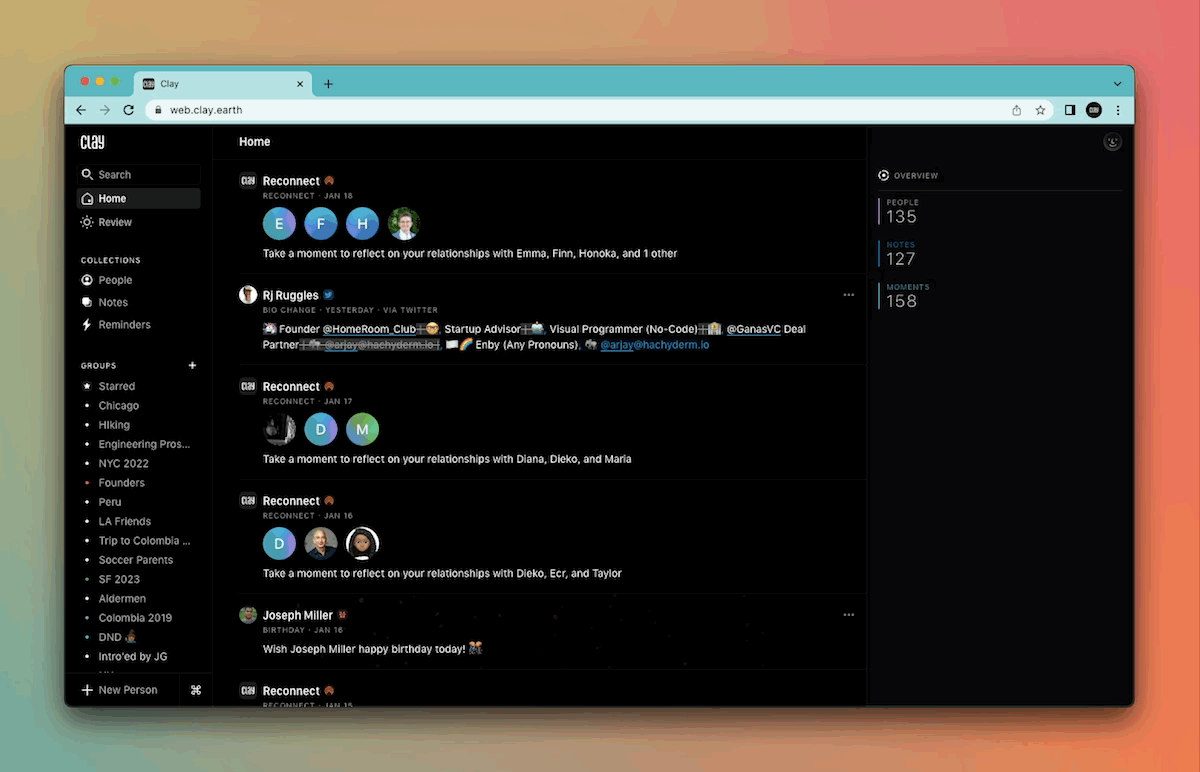 Clay automatically creates cards for all contacts connected through your integrations. You can add a contact manually in Clay by clicking Add at the bottom left on desktop or tapping Add in the Tab bar on iOS.
If you enter a name, Clay will create a blank card where you can add additional info
If add anything other than name (e.g. an email or Twitter handle), Clay will enrich that card with additional information if possible
Clay tries to only create cards for people. If something slipped through, you can delete the card by opening it and clicking Archive at the top on desktop or tapping Archive in the Action menu on iOS.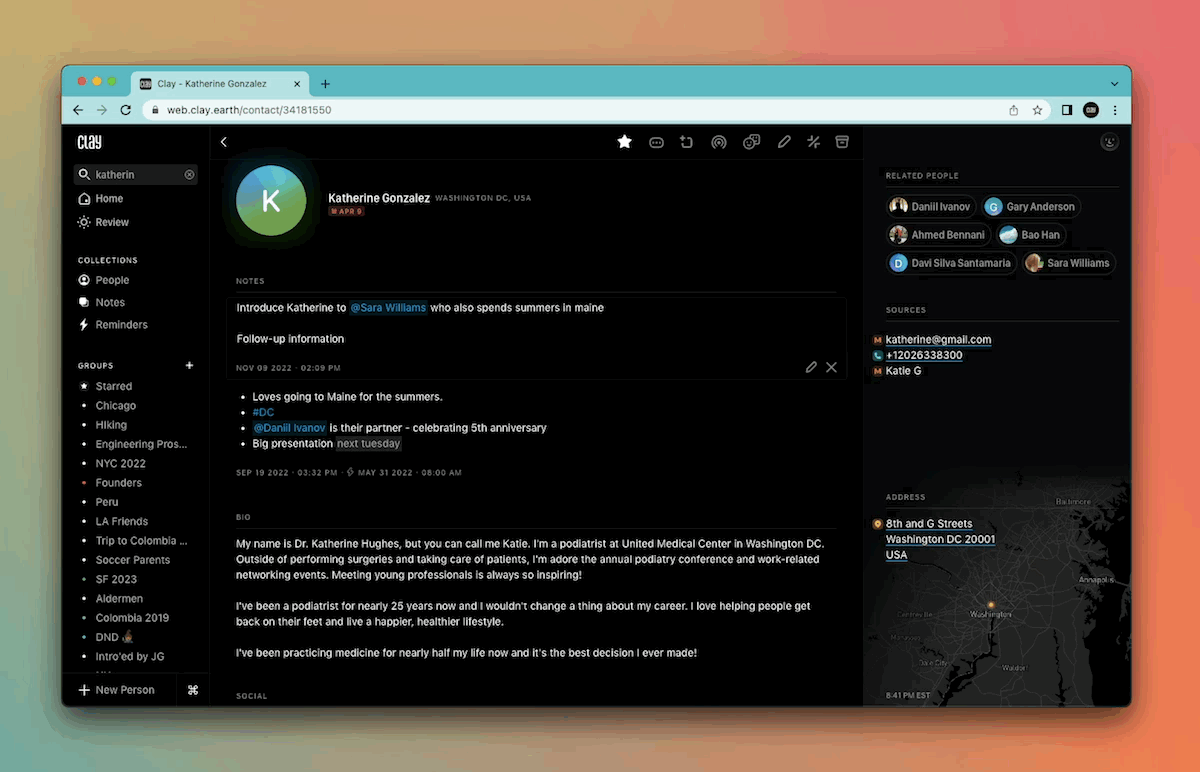 Additionally, Clay automatically merges cards when there's a high degree of confidence that two or more cards exist for the same contact. If there are some cards Clay missed, you can merge them by opening the card and hitting Merge (located next to the Edit button), and search for and select the duplicate card(s).
Correcting Incorrect Cards Info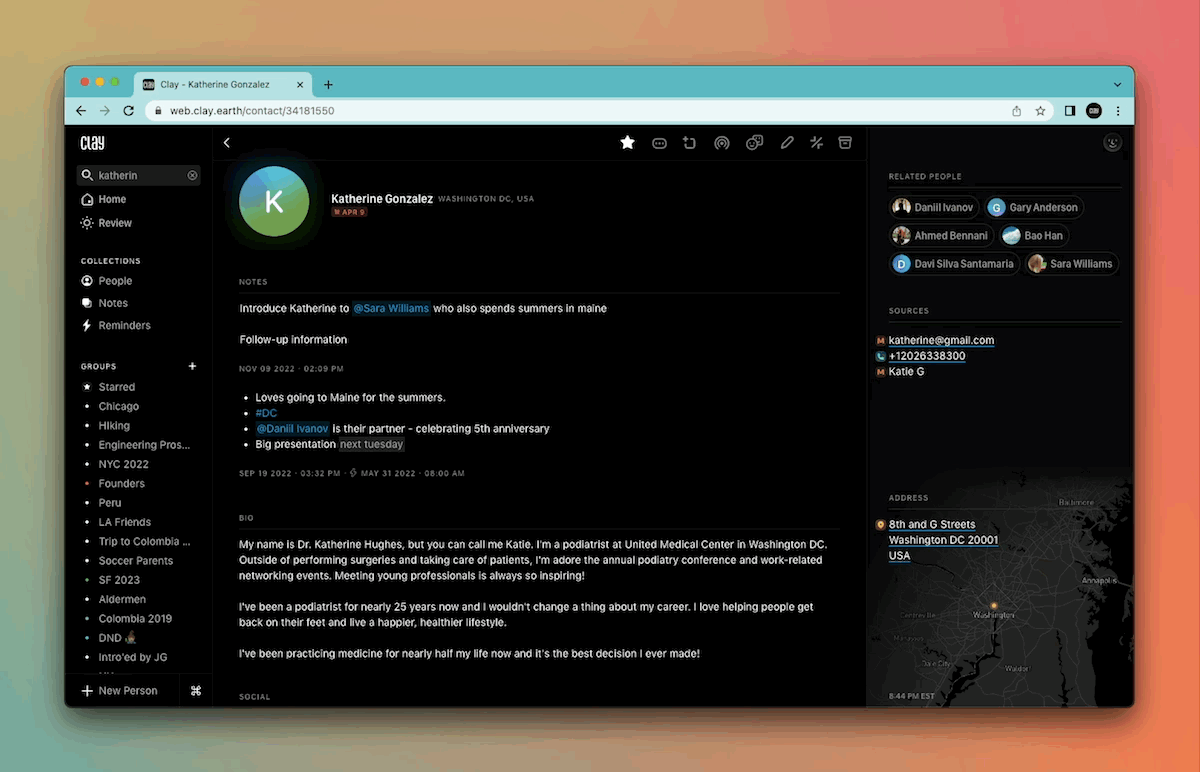 You can manually update or add contact info, approximate location, birthday, education, organizations, and gender. To do so, open the card and hit Edit at the top.
If a card has incorrect info, you may also trigger Clay to repopulate it by clearing the card and adding the correct social profiles and/or contact methods. To do so, use Clear Profile, under Profile Settings in the edit screen.
Notes are one of the core building blocks of Clay. We're huge advocates of writing a quick recap after interactions to foster serendipity and thoughtfulness, resulting in more meaningful connections.
Creating Notes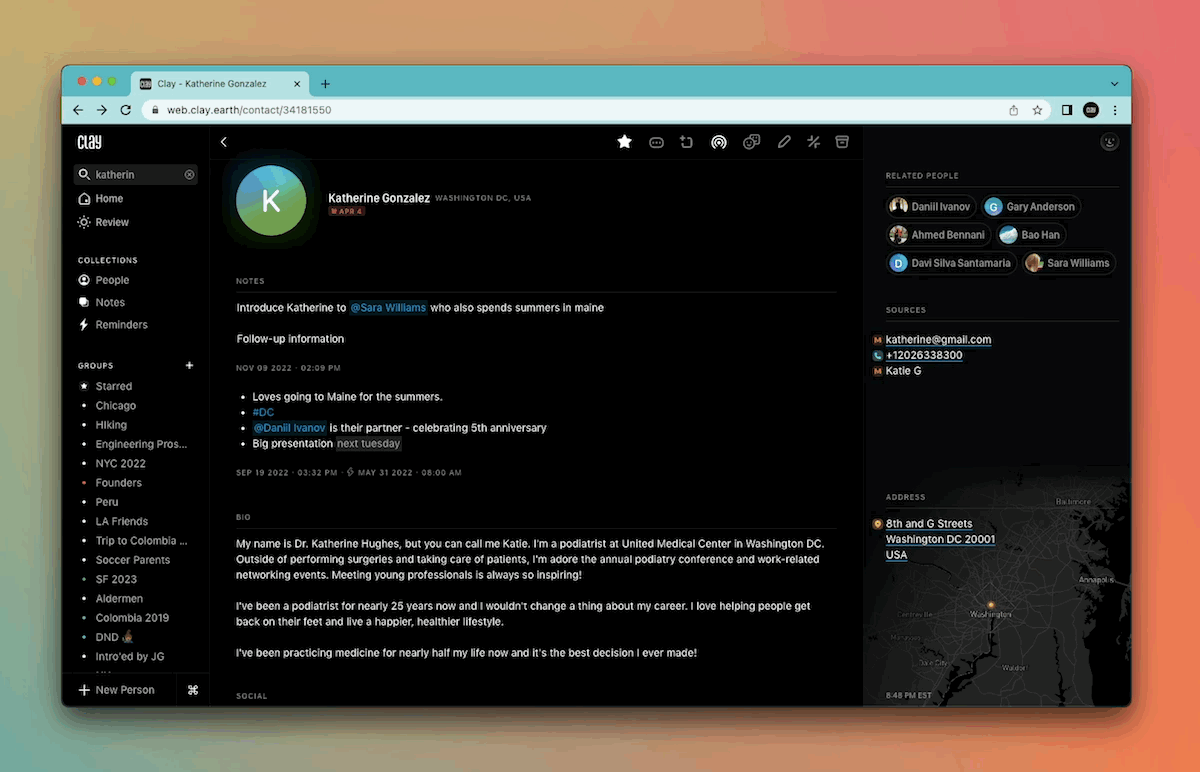 Clay Notes support Markdown formatting, and you can reference other contacts bidirectionally with @ as well as tagging contacts with specific labels using # that can be filtered for in Search.
You can create a new note by hitting Add (at the bottom left on desktop and in the center of the Tab bar on iOS) or by opening someone's card and hitting the Add Note button at the top desktop or in the Action menu on iOS.
On iOS, you also can tap Dictate to use speech-to-text or use OCR to scan in a note, business card, or other text.
Viewing Notes
Use Search to find a specific note, or view someone's card for a complete list of all the notes you've taken on them. If you'd like to see all the notes you've ever taken, ordered by recency, click on Notes under Collections on desktop or Collections in the Tab bar.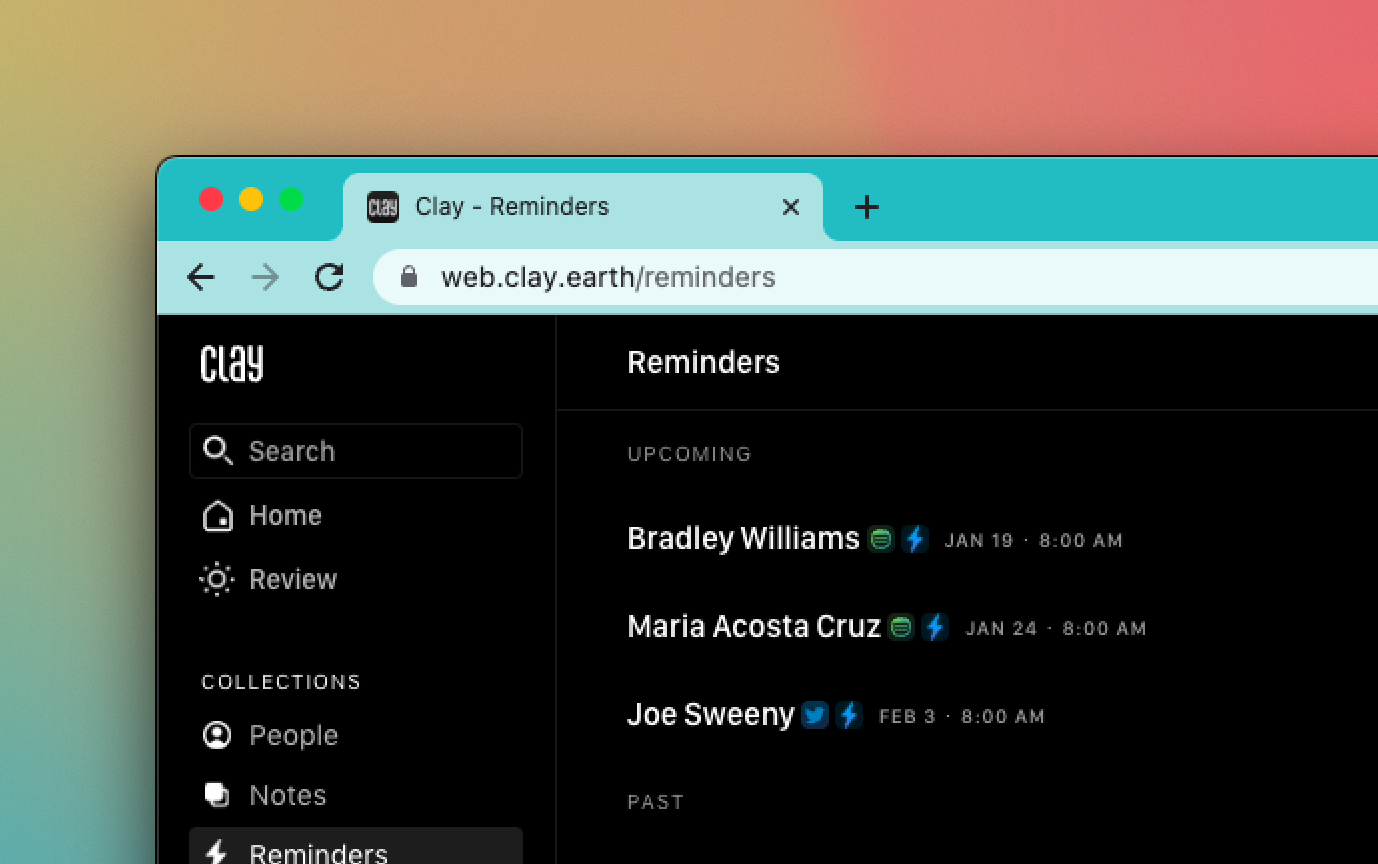 One of our pillars of conscious communication is showing up. If you want to make sure you remember to reach out at the right time, use a Reminder. Clay will let you know when it's due in Home and Review.
You can create a reminder anywhere you can create a note by typing in a date and time. Clay understands phrases like tomorrow night, next Tuesday, December 17th, or in 6 hours meaning you can type the way you think.
Additionally, on iOS
Tap Add in the Tab bar and search for and select a contact
Tap Reminder and choose a date and time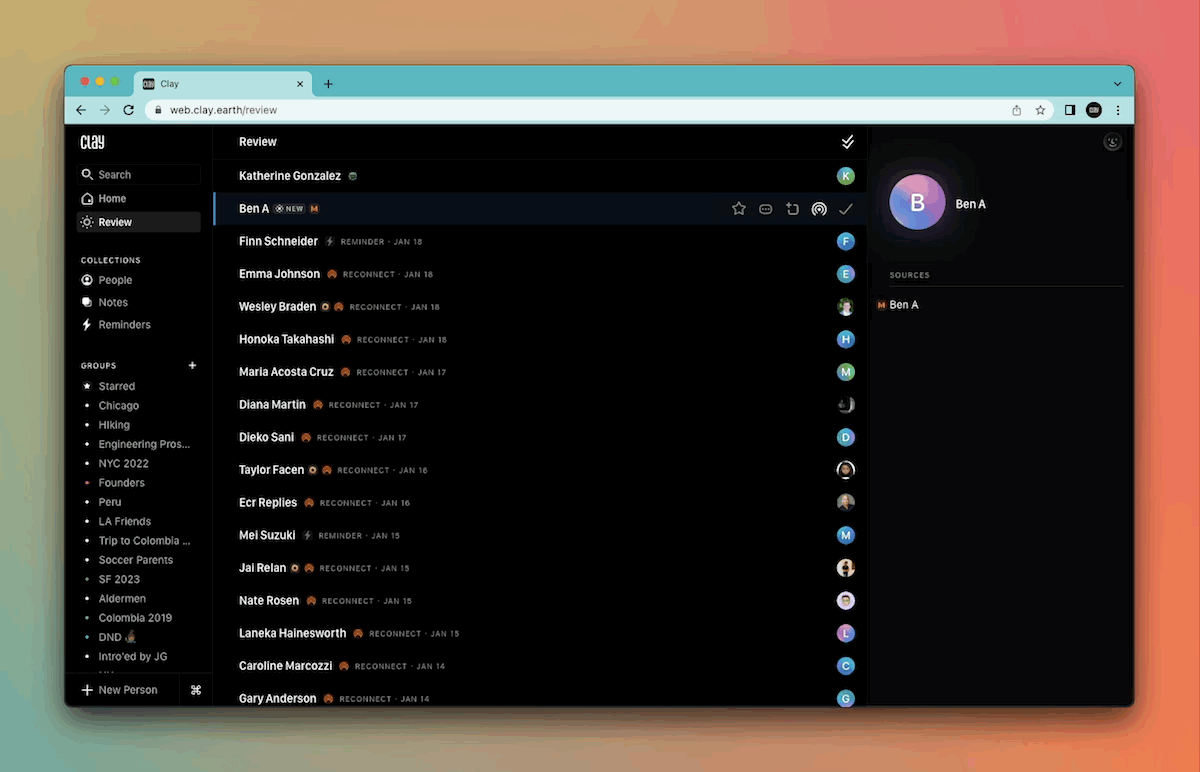 Lastly, set a reconnection cadence to never lose touch with someone, or ask Clay to intelligently remind you when to reach out based on the last time you interacted by selecting Automatic. If you'd like to disable reconnect for specific people, select Disable.
To change someone's reconnect cadence, open the card and click on Set Reconnect Cadence at the top on desktop or tap Cadence in the Action menu on iOS. You can also hit H while hovering over someone in Review, Search, or a Group on desktop as well as swipe left on a card in Home and tap Cadence on iOS.
You can set how many people Clay suggests for reconnection each day by going changing your Home settings.
Further Reading
All of the features covered in this guide have more in-depth articles in this Library if you'd like to know more specifics about how Clay works and how you can get the most out of your Clay experience.
We also recommend you check out The Clay Method if you'd like some context on the thought process that guides feature development and design. A Day in the Life goes through some real-world examples of how Clay is used. And if you'd like to check out some ways to navigate the app faster, check out Navigation.