Pre-meeting Briefs
We've crafted a helpful reminder to get you up to speed for your next meeting—including any previous notes and links to all social profiles.
Quick Notes
Clay is the fastest way to save your thoughts and follow-ups without distracting from your meeting. Tap and hold a notification during or after a meeting to take a note.
New Clay Member
Learn when someone you know joins Clay.
Birthdays
A handy reminder the morning of, when it's someone's birthday.
Reconnect
Get notified about your Reconnect recommendations each day.
Weekly Digest
The Weekly Digest is a convenient way for you to receive news and updates from your network. You'll receive a beautiful personalized summary email every Sunday evening that will help you be fully prepared for the week ahead.
Weekly Digest is enabled by default. You can turn it on or off in Settings.
Daily Brief
Sent each morning, the Daily Brief email covers who you'll be meeting with and quickly contextualizes your relationship with them.
Customizing Your Notifications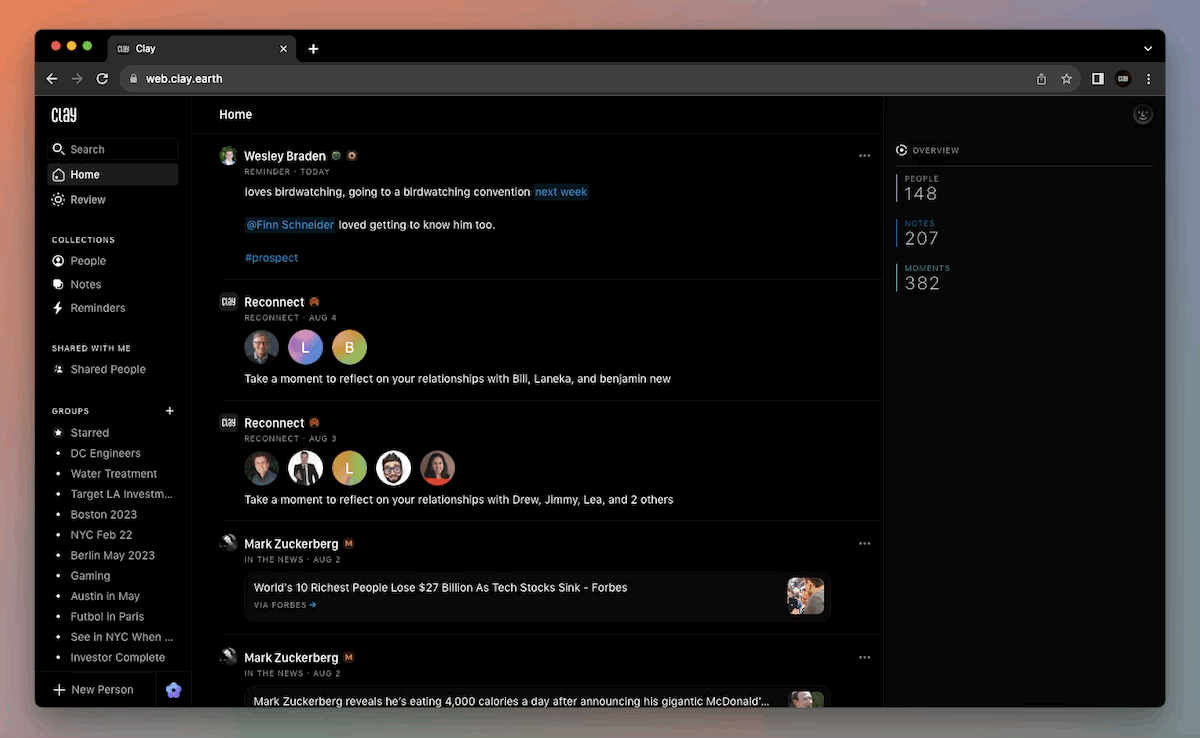 Go to Profile Icon, then Settings on iOS, Mac, or Web
Under Notifications, toggle any of the notification types mentioned above
Under Notification Sensitivity, you can toggle the criteria that determine whether to send a notification for a particular person.
Recently Met: When on, you'll receive notifications for people you've seen recently (in the last 10 days). Turn this off if you don't want to receive pre-meeting notifications for people you've seen recently.
Inner Circles: When on, you'll receive notifications for people who are marked Starred. Turn this off to stop receiving notifications for people you know well.
Quality Filter: In some cases, Clay doesn't have a lot of information about a particular person. When this is on, you won't receive notifications if someone's Clay profile is relatively empty.