March 5, 2020
Search your Twitter network
• Relationships live in many places, including social networks like Twitter. Connect your Twitter account in the Settings screen to search your Twitter network by followers, following, and their follower counts, in addition to all the other fields in Clay like location, education history, and work history where available. Some examples: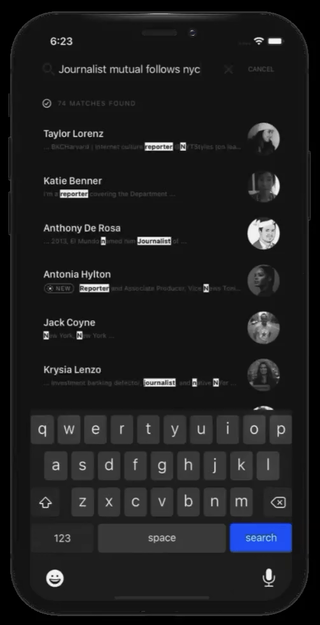 Export your data
• You can now request a CSV export of your Clay contacts and notes from the Settings screen
Choose your preferred email app
• When emailing someone from Clay, you can now select your preferred email client — thanks Andrew P. for the suggestion!
Improvements ✨
You'll now only receive pre-meeting notifications when contacts have reasonably populated profiles — thanks Dan S. for the suggestion!
Hundreds more education + work histories added
Hundreds of duplicate contacts / emails merged
Improved network monitoring when offline — thanks Ben D. for the suggestion!
Smoother launch screen and card animations
Fixes 🛠
Don't send notifications for all-day events
When adding a contact manually, homepage now waits until contact is successfully created to show the new contact
Hundreds of duplicate contacts / emails merged
Fixed tapping of pills on the contact card
Fixed bug where keyboard would disappear in notes view
Search rows are now the same size