Cards are at the heart of Clay. They provide an overview of how you know someone, the last time you interacted, and what platforms you're connected on. Any notes you take are gathered in a person's card, and you'll be able to view related people. Cards also summarize how long you've known each other and how much you interact and present a timeline of your first, most recent, and upcoming interactions.
Since card information is populated based on others' public profiles on each integrated service, Clay updates when they do, ensuring you're always informed.
Timeline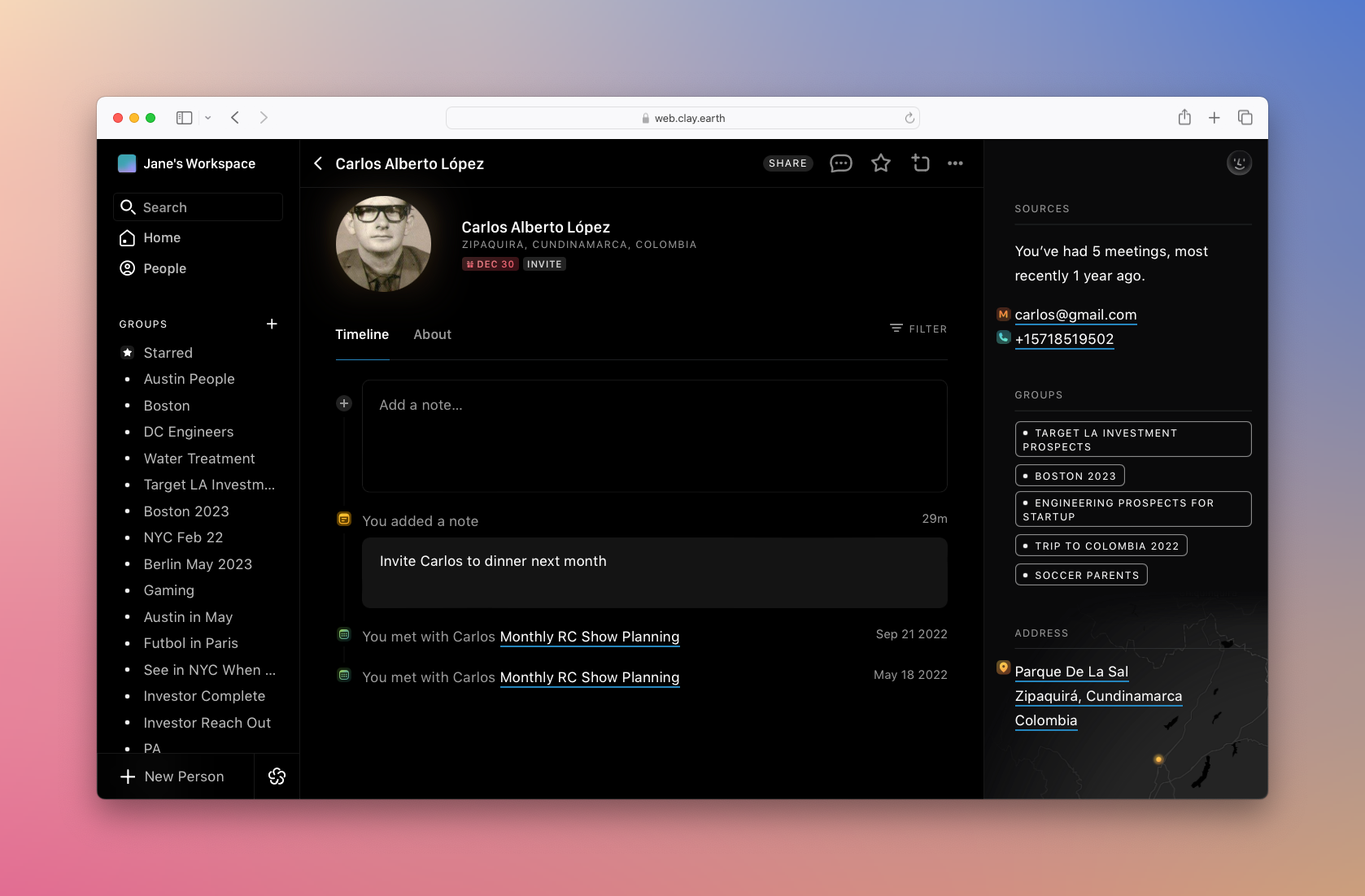 Timeline brings together Moments — your first, last, and upcoming calendar events, emails, and text messages — with your notes about a person. It's all the context you need when revisiting someone's profile, beautifully presented and readable at-a-glance.
Notes help you keep information for each card, whether it be big or small. Here's where you can add a reminder to follow up, a note from your last interaction, or jot down their dog's name so you remember for the next time you meet.
Quickly take a note using the "N" keyboard shortcut, switch to the About tab using "A", and switch back to Timeline using "T".
About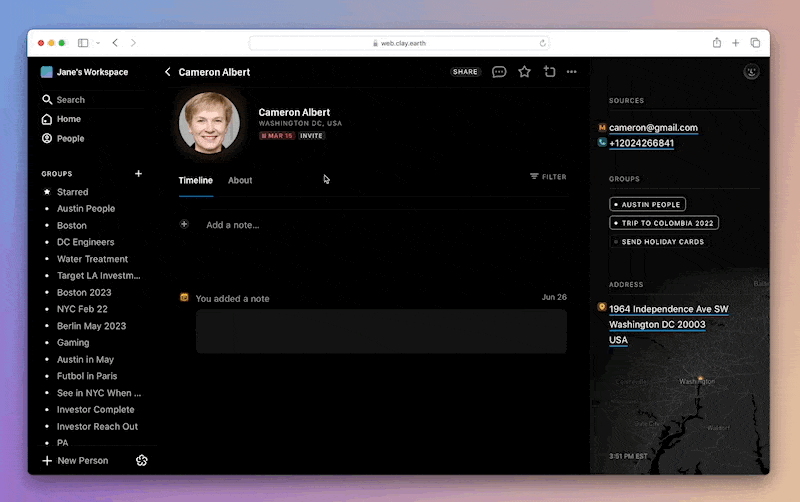 Starred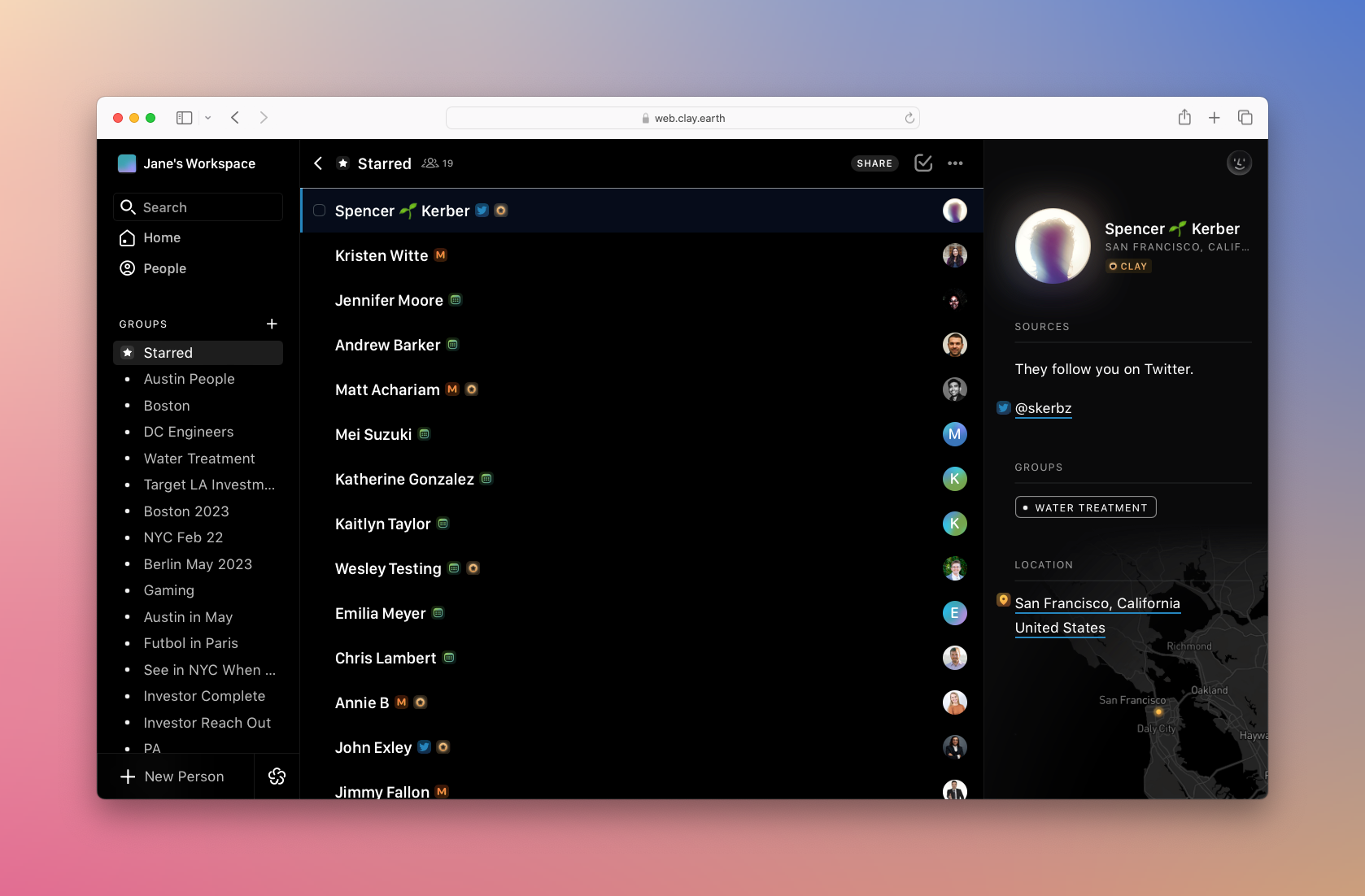 You've known some people for years, others, you just met today. Clay analyzes your relationship strength by using the context and frequency with which you interact with someone to show certain people more often.
The Starred group is a collection of your closest relationships, created during onboarding. You can edit who belongs in this group by opening their card and hitting the star icon.
Contact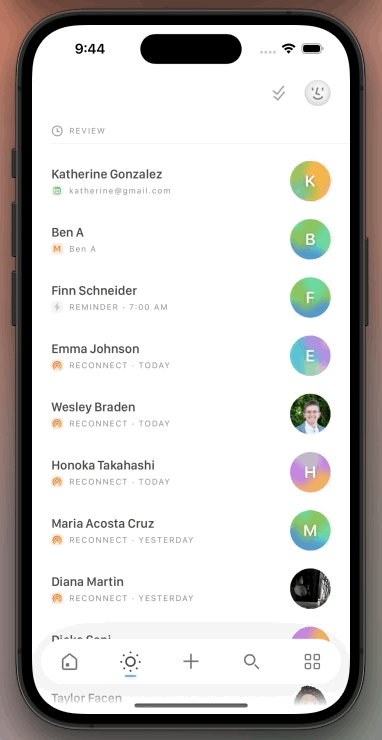 If you click on Contact on iOS, you'll see a pop-up with the contact options you have for that card asking how you'd like to reach out. You can select one of the options to open that method of communication in its native app.
If you'd like to do the same on Mac or Web, click on the way you'd like to reach out under Sources in the right sidebar.
Reconnect Cadence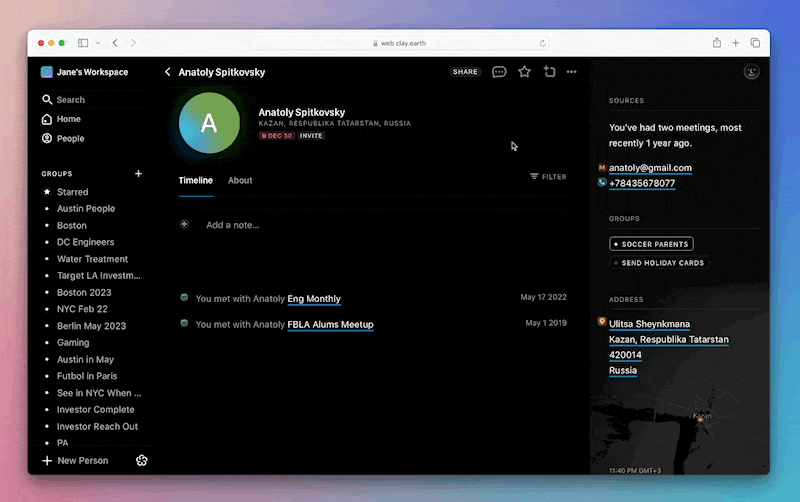 There are some people you want to be reminded of more regularly than others. This icon is where you'll set you Reconnect cadence. Your cadence will be set to Automatic by default, meaning that Clay will intelligently decide when to surface the person to you. You can also set a custom cadence or no cadence, depending on your preference.
On Desktop and Web
If you select a custom cadence, this icon will appear filled. If you decide not to be reconnected to this person, the icon will be shadowed with a diagonal line through it.
Group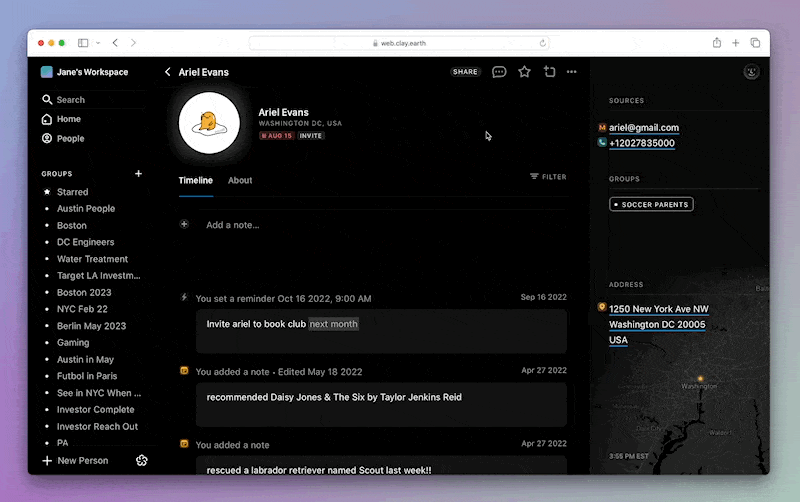 Groups help you keep the people in your life organized. You can add someone to an existing group, or create a new one by clicking or tapping on this icon.
Edit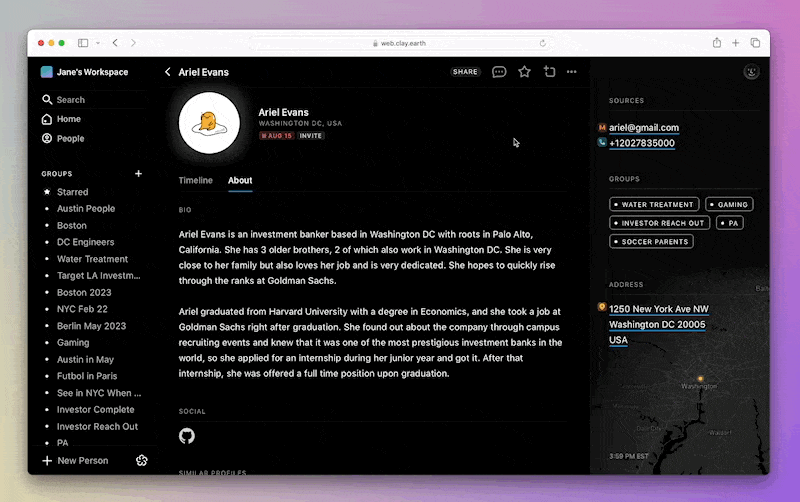 Clay can't always tell the full story, so here's where to add your own detail! Edit profile information, add social organization links, and more when you click or tap on this icon.
Merge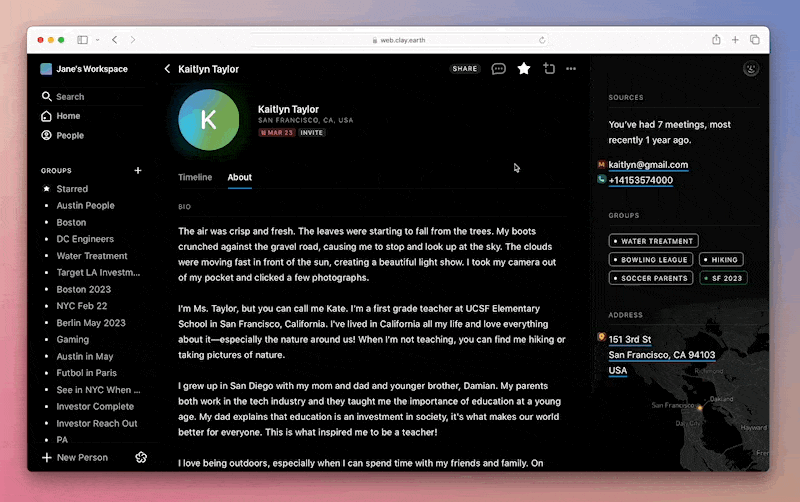 If you ever see a duplicate card for someone, you can click the Merge icon to search for a duplicate and join the two cards together.
Related People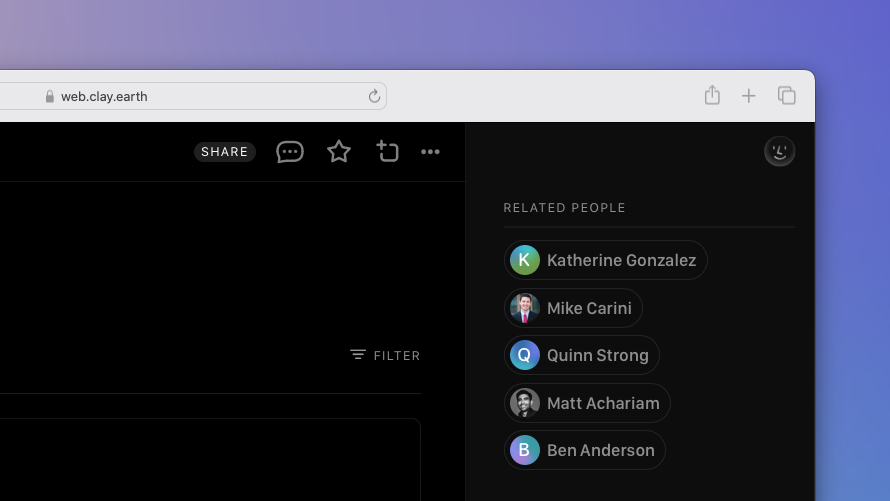 When taking notes, you often need to mention other people—who you were introduced by, friends in common, and colleagues who came up in conversation. Whenever you mention another person in a note using @, Clay shows that they're related. Since relationships are bidirectional, each person will show up under the other's Related People.
Sources
Clay uses your integrations to display how you're connected to people. This list is where profile information comes from, meaning it contains all channels that you use to contact people.