Hope you're having a great week! Read on below to see what's new in Clay.

🆕 New in this release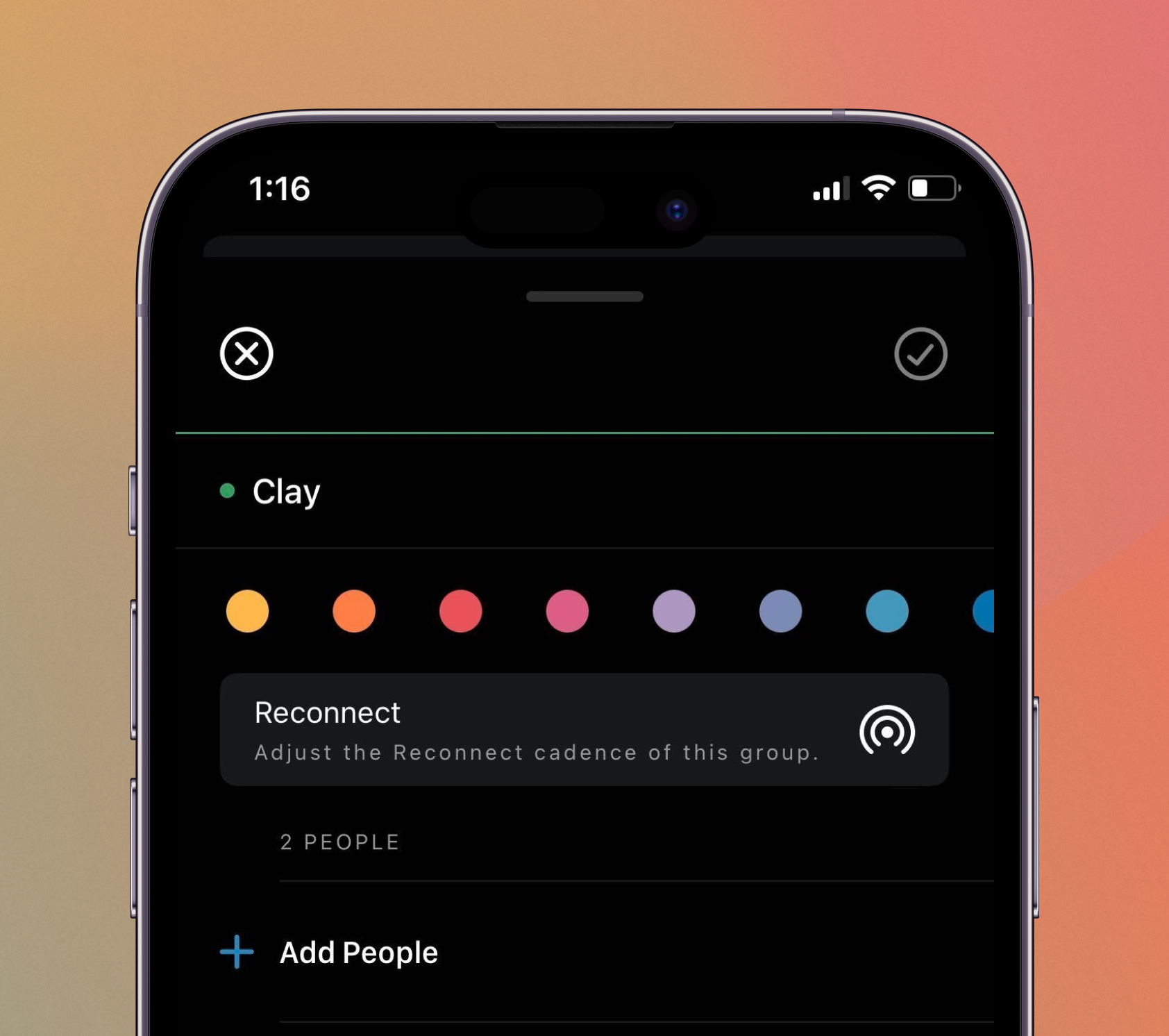 🛜 Group Reconnect for iOS

Reconnect is the easiest and most powerful way to remember people over time, and we've heard from many of you about how setting Reconnects on Groups fits more seamlessly into your workflow — so we're excited to bring it to iOS for all of you who manage groups on the go.

Simply tap into the Group you'd like to set the Reconnect cadence for, tap "Edit", and then adjust the cadence as you see fit. It's that easy! To learn more, visit our Library.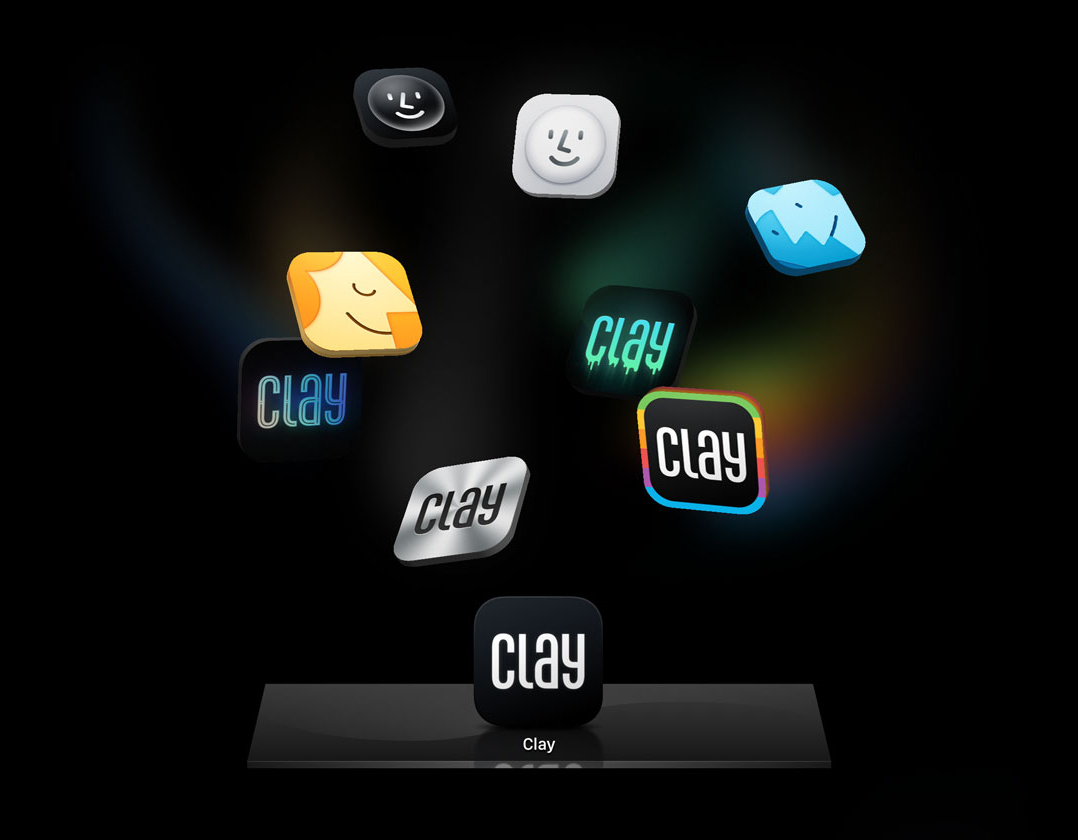 📱 Beautiful new app icons

By popular demand, we've brought back some of our special edition icons from the past few years as permanent options in Settings! It's a great way to showcase Clay on your homescreen and personalize Clay with even more personality.

🔎 Search for Clay Members

We've added a few more powerful search terms, including clay members which will show you people you know who also use Clay. It's a great reason to say hi 👋🏽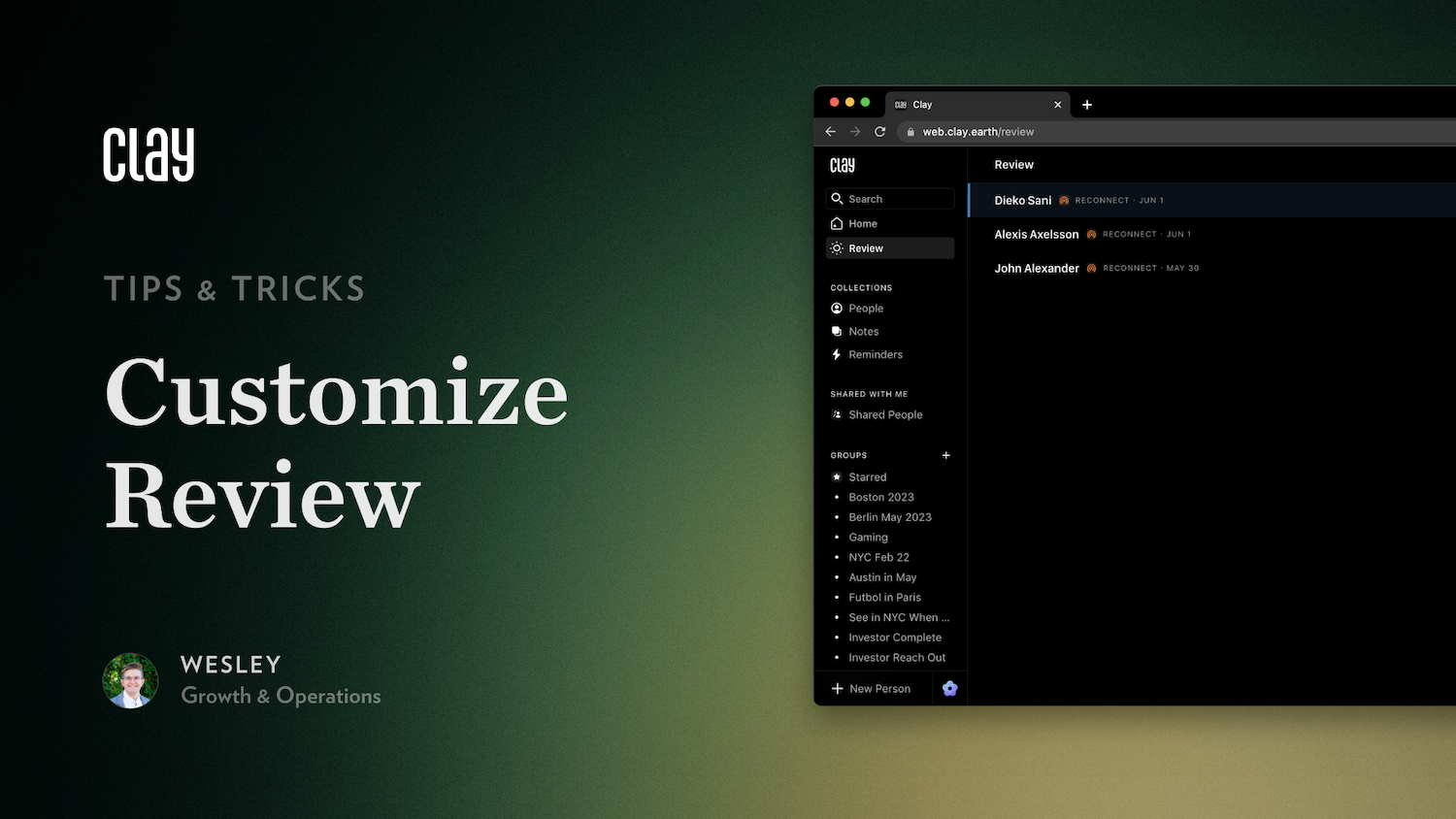 🎬 New videos on Clay's YouTube Channel!

We added a handful of videos this week that will make your experience with Clay even better. From how to prep for a meeting to how to change your Clay theme, we have you covered!

Take a stroll around our other videos while you're at it. You can find our Youtube channel here.

As always, we love to hear your feedback! If there's a video you'd like to see, please let us know by emailing care@clay.earth.

✨ Fixes and Improvements
🖥️ Hide empty pills in "Related People" when user edits notes that contain mentions for archived/merged contacts.
🖥️ Stop responding to "R" keyboard shortcut in Group detail view (Remove Person) and Archive (Restore Person) when a user is trying to refresh the window.
🖥️ Better handling and help states when adding Contact Info to a person where that Contact Info already exists on another person (or archived person) or has been deleted.
🖥️ Allow users to sign up with email from marketing site.
🖥️ Users can now logout by navigating to `/logout`.
Disallow other clients from rendering Clay in an iframe.
🖥️ Fix various errors when a user logged out from within a view.
🖥️ Fix rare issue of Search being broken when users would use the `/` keyboard shortcut to search.
🖥️ Periodically refresh a member's Nexus status if their account is currently being prepared.
🖥️ Update the "Shared with me" list on every view rather than requiring a hard refresh to see updates.
🖥️ Add a confirmation step when a user tries to remove an auth account.
🖥️📱 Fixed an issue where some members were being prompted to Reconnect with themselves.
📱 Fixed an issue with the contact notification extension.
📱 Fixed an issue preventing contact sources from being removed.
📱 Stability improvements when loading contacts with lots of profile info or notes.
📱 Let long lists of person avatars scroll horizontally in Feed items if they exceed the lateral bounds of the display.