The wait is finally over! Clay for Windows is here. We've also got some great new improvements to our sharing feature from last week.

🆕 New in this release




Announcing Clay for Windows [Beta] We've been cooking up a little something to make Clay available to even more people — and are proud to announce that we've brought all the power of Clay to Windows!

Clay for Windows brings next-generation contact and relationship tools to Windows computers, with all the features you've come to expect — our email, calendar, Twitter, Linkedin, and Facebook integrations, along with native system features like notifications, keyboard shortcuts, and more.

This has been a popular request for the past few years, and we're excited to expand the Clay horizon. You can download the Windows app here and learn more about the release here.

Shared with me: You can now easily view all of the Clay profiles that have been shared with you. Click on the "Shared with you" tab that's available in the sidebar on web and desktop.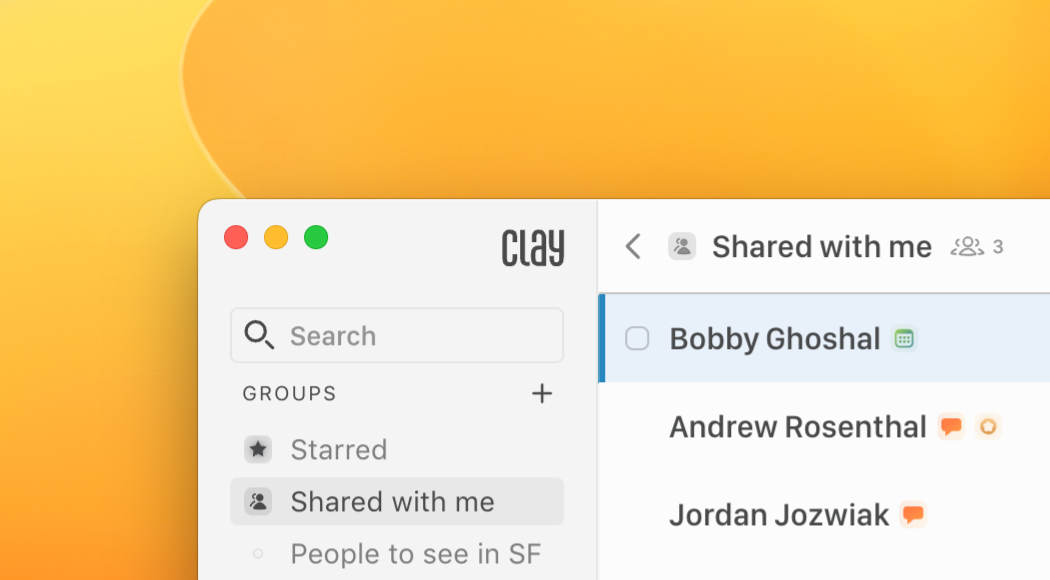 ✨ Fixes and Improvements
🖥️ Make profiles publicly accessible when a user clicks "Copy link" in the "Share" modal within the Person profile view.
🖥️ Indicate the share status for a person on their profile view by showing a "Shared" button if the person is privately or publicly shared with others. If the person is only visible to the user, the button will still read "Share."
🖥️ Standardized the sidebar preview of people. We now show a location (map) in all sidebar previews if we have location data for a person.
🖥️ Ensure members aren't redirected to the "Start" page if they accidentally "sign up" instead of "logging in" when signing into the app.
🖥️ Link to FAQ re: email preference settings on the Settings page.
🖥️ Fix bug where "Starred" group member list would momentarily get dropped out when returning to this view from another tab or from a minimized window.
🖥️ Fix issues with incremental loading of past reminders in the Reminders view.